2018 Annual General Meeting
The Annual General Meeting will be held at the clubrooms on Monday 21 May at 1pm. The business to be conducted is as follows:
Confirm the minutes of the 2017 Annual General Meeting.
Presentation of the Chairman's Report.
Consideration and adoption of the Chairman's Report.
Presentation of the 2017/18 Accounts.
Consideration and adoption of the 2017/18 Accounts.
Election of office bearers for 2018/19.
Business of which notice has been given.
Bronwyn Thwaites
Secretary, Management Committee
Week of Bowls
The 2018 Week of Bowls carnival has concluded, with the the consensus being it was the best ever. There were 252 entries from 40 clubs in Victoria, New South Wales and Queensland. Planning is already under way for next year's carnival, now a permanent fixture on the region's February bowls and events calendar. View the 2018 results here.
The carnival received the 2018 Australia Day Award for Community Event of the Year presented by the Paynesville Business and Tourism Association, supported by the East Gippsland Shire.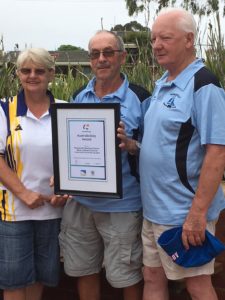 Ladies' President,Val Hardy; head of the carnival's organising committee, David McGrath; and Men's President, Ray Holland, with the Australia Day award certificate.