Week of Bowls 2018
Planning is in the final stages for the 2018 Week of Bowls, to be held from 12 to 16 February. We hope to top last year's successful carnival, which attracted a total of 250 bowlers from 48 clubs in Victoria, New South Wales and Queensland. This year we celebrate 20 years of Week of Bowls, a standard fixture on the bowling calendar for Paynesville and the region.
The event received the 2018 Australia Day Award for Community Event of the Year presented by the Paynesville Business and Tourism Association, supported by the East Gipsland Shire.
For more information about the carnival, check out the flyer.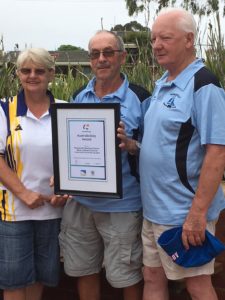 Ladies' President,Val Hardy; head of the carnival's organising committee, David McGrath; and Men's President, Ray Holland, with the Australia Day award certificate.